Welcome to the last 4 weeks of the 2015-2016 Great Canadian Turtle Race!
Our sole competitor, Agile Abigail, is still out there logging kilometres. She has currently travelled 4,601 kilometres and is approximately 70 kilometres away from the eastern coast of the United States. Earlier this week, Abi appeared that she was headed to Florida, but since our last update, she has ramped up her swimming speed (swimming almost 100 kms/day on average) and has made a turn north and is currently sitting off of the coast of Georgia and South Carolina! This sudden shift in behaviour, speed and direction could be due to many different factors – maybe she encountered a predator, or changed her mind! Either way, Abi is using a multitude of different characteristics, such as chemicals, light, latitude and magnetic fields to help her find her nesting beach!
Abi last nested in 2014 in Florida, so we can safely assume that she will be headed back to the area to nest this year. Of all our 2015-2016 race competitors, she is the only racer that is headed to Florida – the rest of our turtles (Sharon, Christie and Bev) have previously nested in Trinidad. Most leatherback turtles that nest in Florida, tend to nest of the east coast, with 50% of nests occurring in Palm Beach County. This map below, from the Florida Fish and Wildlife Conservation Commission, shows leatherback nest densities throughout the state of Florida during 2010-2014.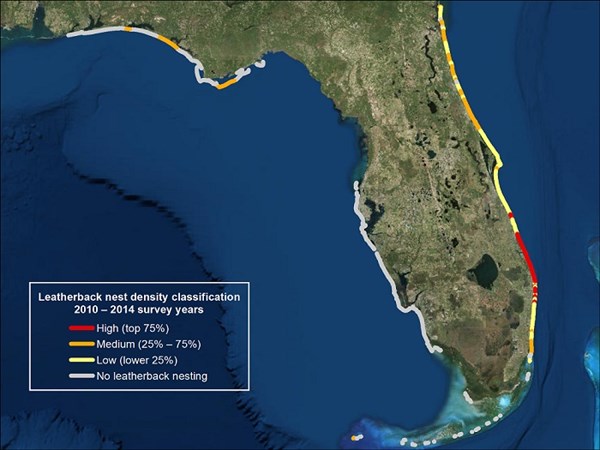 Our 2012 Great Canadian Turtle Race winner Red Rockette is still keeping pace for Abi! This week was a huge week for Abi as she managed to zoom passed her virtual pace keeper Red Rockette, who has swam a total of 4561 kilometres, and has been swimming approximately 50 km/day this week – a real difference compared to Abi!
Keep your eyes on www.turtlerace.ca to see what Abi is up to over the coming weeks!