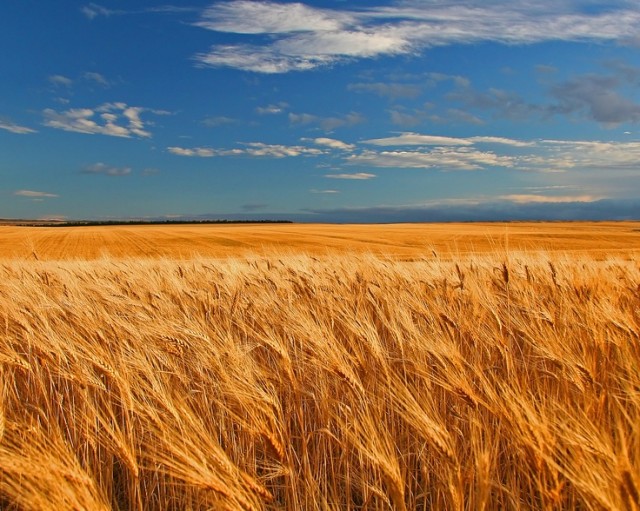 As Angella leaves the Montane Cordillera ecozone, she is now crossing into the Prairie ecozone which includes the southern portions of Alberta, Saskatchewan and Manitoba. The Prairies are dominated by flat plains and farmland, and is considered to be the breadbasket of Canada. The entire area of this ecozone is approximately 520 000² km, which is about the same size as Newfoundland and Labrador, Nova Scotia and New Brunswick put together.
Angella has a long ride through the Prairies.  Over the next three weeks, she'll travel more than 1400 kilometres, which is about the distance from London, England to Edinburgh, Scotland. As Angella rides through the prairies, she may also take notice to the change in climate. Summers on the prairie are short and warm, due to the lack of waterways in the area, resulting in moderate temperatures and smaller amounts of precipitation.
Forest growth is fairly limited in the prairies due to the minimal amount of precipitation. Rainfall is blocked by the Rocky Mountains, preventing moisture from the Pacific reaching the area. Grassland dominates, with grasses such as wheat grass, spear grass, sagebrush and prickly pear cactus. On her way, Angella may see badgers, Canadian Geese and even the occasional whitetail Jackrabbit. The area is also home to very rare species such as the Black Footed Ferret, the Burrowing Owl, and the Greater Sage Grouse.
Angella quitte la cordillère montagnarde pour pénétrer maintenant dans l'écozone des Prairies, qui correspond à la partie sud de l'Alberta, de la Saskatchewan et du Manitoba. Les Prairies sont dominées par des plaines et des terres agricoles, et sont considérées comme le grenier du Canada. La taille entière de cette écozone est d'environ 520 000 km ², ce qui correspond approximativement à taille de Terre-Neuve-et-Labrador, de la Nouvelle-Écosse et du Nouveau-Brunswick réunis ensemble.
Une longue balade attend Angella pour traverser les Prairies. Au cours des trois prochaines semaines, elle parcourra plus de 1 400 kilomètres, soit environ la distance entre Londres et Édimbourg, en Écosse. Alors qu'elle traversera la région, Angella constatera le changement de climat. Les étés dans les Prairies sont de courtes durées et chauds, en raison de l'absence de cours d'eau dans la région, ce qui entraîne des températures modérées et de petites quantités de précipitations.
Justement, en raison de la petite quantité de précipitations, la croissance des forêts est assez limitée dans les Prairies. Les précipitations sont bloquées par les montagnes Rocheuses, qui empêchent l'humidité de l'océan Pacifique d'atteindre la région. Les pâturages dominent avec des herbes comme l'agropypre, le pâturin des prés, l'armoise et la raquette à crins blancs. Sur sa route, Angella pourra voir des blaireaux, des bernaches du Canada et même à l'occasion un lièvre de Townsend. La région abrite également des espèces très rares comme le putois d'Amérique, la chouette des terriers et la grande gélinotte des armoises.
__
This post has been generously sponsored by Just Green Lifestyle, CWF's partner in carbon offsets.  Just Green provides carbon offset options for Canadians in every region of Canada – visit their website for more details.
Ce message a été généreusement commandité par Just Green Lifestyle, partenaire de la FCF en compensation carbone. Just Green Lifestyle offre des options de compensation carbone pour les Canadiens dans toutes les régions du pays.